Self Ligating Braces Calgary
Led by the expert guidance of Dr. Trpkova, Orthodontist, Calgary, we are proud to offer one of the most advanced orthodontic treatments available: self-ligating braces. At InLine Orthodontics, we are committed to providing our patients with the best treatment options to meet their unique needs.
What are Self-Ligating Braces?
Self-ligating braces, while made from the same materials as traditional braces, incorporate a significant change in design. Unlike their conventional counterparts, self-ligating braces do not require the use of elastics. This means fewer appointments and less friction exerted on the tooth, leading to a more comfortable orthodontic experience.
The braces come with options of traditional metal, ceramic, or clear brackets, catering to personal preferences and aesthetic considerations. They are similar in size to metal braces, but it's the advanced technology hidden in their design that sets them apart.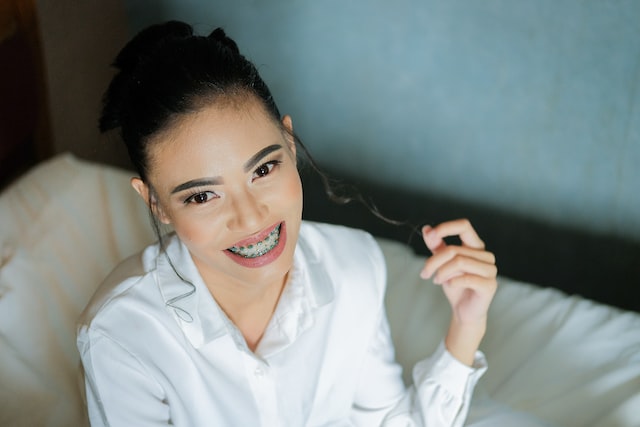 The Specialized Clip Advantage
At the heart of the self-ligating braces design is a specialized clip that replaces the function of elastics. The clip helps the archwire guide teeth and align them into their correct positions.
This component:
Reduces the amount of pressure placed on the tooth
Requires fewer adjustments, making your treatment more time-efficient
Eliminates the need for elastic replacement, enhancing comfort and ease-of-care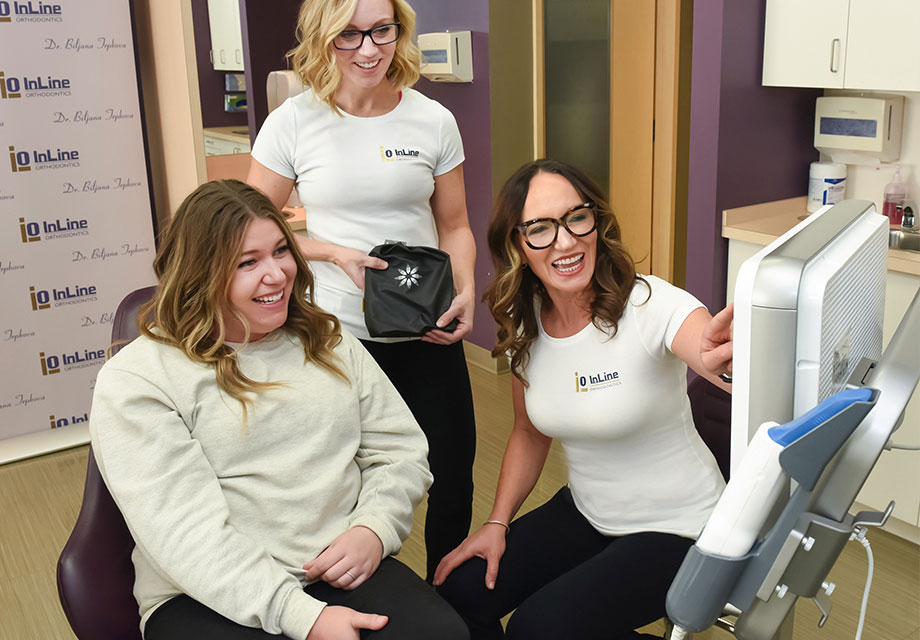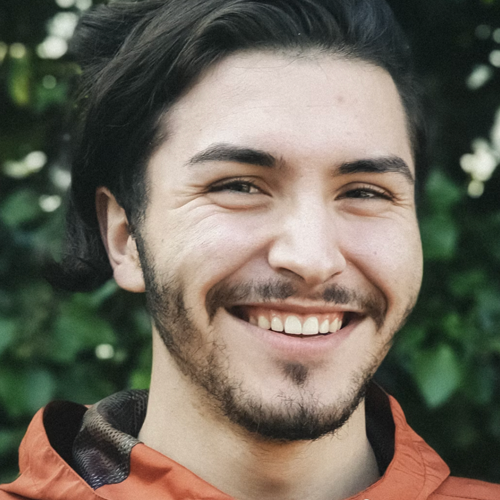 "I would highly recommend Dr. Trpkova and her team. They are extremely personable and knowledgeable. They made it easy for me to feel comfortable enough to ask questions about my treatment and I never felt rushed during my appointments. I'm so very happy with the final results of my treatment!"
Why Choose Self-Ligating Braces in Calgary?
Choosing self-ligating braces at InLine Orthodontics is a decision that promises many benefits, including:
Comfort: With less friction and pressure on your teeth, these braces offer a more comfortable experience compared to traditional braces.
Convenience: The need for fewer appointments fits easily into your busy schedule.
Versatility: Whether you prefer metal, ceramic, or clear brackets, self-ligating braces cater to your style and aesthetic preferences.
Efficiency: The specialized clip technology accelerates the tooth alignment process, often reducing the overall treatment time.
Comparing Self-Ligating Braces to Other Types of Braces
At InLine Orthodontics, we believe that an informed patient makes the best decisions about their treatment. Here's a comparison of self-ligating orthodontic braces with other braces available.
Traditional orthodontic braces, often the first image that comes to mind when considering orthodontic treatment, are the most common type of braces.
These braces, made from high-grade stainless steel, straighten teeth using metal brackets and archwires. With the addition of colored elastics or rubber bands, they can even make your treatment experience more unique with a colourful smile.
Ceramic braces offer a more aesthetic alternative. Made of clear materials, these clear braces blend in with your teeth, making them almost invisible. Primarily, they cater to older teenagers and adults who have cosmetic concerns.
While they are visually less prominent, ceramic orthodontic braces do require more attention to oral hygiene as they are larger and are more brittle than their metal counterparts. Ceramic braces tend to be used more on upper front teeth than on lower teeth.
Lingual braces are the ultimate option for those who want an inconspicuous treatment, as they are hidden behind the teeth. Custom-made to match your teeth's shape, these braces are a popular choice among athletes, musicians who play wind instruments, actors, models, and adult professionals.
Invisalign Clear Aligners
For those seeking a virtually invisible and comfortable option, Invisalign clear aligners offer a compelling choice. Crafted from comfortable acrylic trays, these clear aligners gently and effectively guide your teeth into their desired position.
Not only are Invisalign aligners invisible, but their smooth and clear acrylic design also minimizes mouth abrasions that can sometimes occur with traditional braces.
Insurance and Financing for Braces
Many insurance providers in Canada offer coverage for orthodontic treatment, including self-ligating braces. Please contact your insurance service provider for more information on your individual plan.
If your insurance does not cover orthodontics, don't worry. We offer a variety of financing options and payment plans through our clinic to make your journey toward a beautiful smile more accessible and affordable.
Trust Your Smile to Dr. Trpkova
Dr. Trpkova, our highly skilled Orthodontist in Calgary, is committed to helping you achieve a healthier, more confident smile with self-ligating braces. Her expertise in the field, coupled with our dedication to patient-centred care, ensures your orthodontic journey is as smooth and successful as possible.
Schedule a Free Consultation Today
Take the first step towards a more beautiful smile with a free consultation with our experienced team. At InLine Orthodontics, your smile is our priority.