Pediatric Orthodontics Calgary
Our skilled Calgary Orthodontist specializes in providing high-quality, compassionate orthodontic care tailored to meet the unique needs of our young patients.
Pediatric Dentistry and Orthodontics
We're proud to offer orthodontic treatments for all ages, including Pediatric Orthodontics in Calgary for all of our young patients!
At our practice, we are passionate about helping children achieve beautiful smiles through good oral health, good dental habits, and dental care.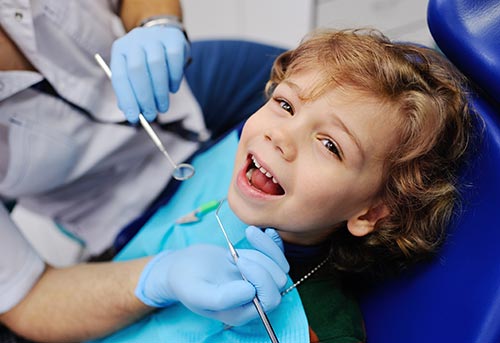 The Importance of Pediatric Dentistry and Orthodontics
Pediatric Dentistry and Orthodontic treatment in childhood can pave the way for a healthy and attractive smile in adulthood.
Timely intervention can guide the growth of the jaw, regulate the width of dental arches, create space for crowded teeth, and prevent more complex orthodontic problems later in life. This makes the process of achieving a perfectly aligned smile and long-term oral health simpler.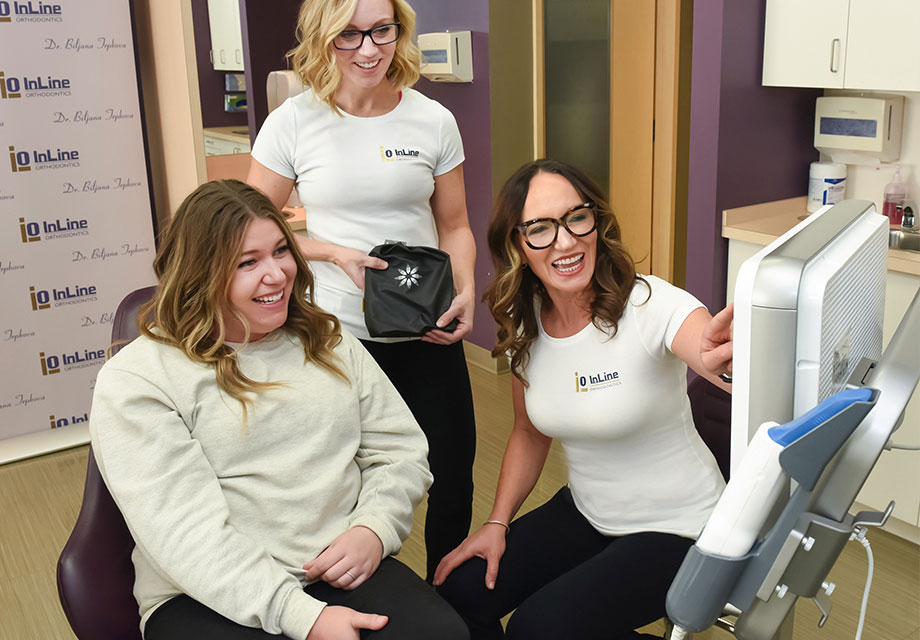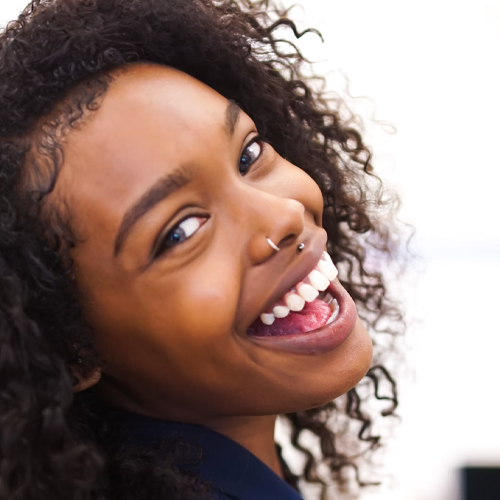 "We brought both of our kids to In-line Orthodontics and they both have beautiful smiles now! We were referred early and never felt any pressure to get going on treatment, we had regular checks until my child was the right age."
Calgary Pediatric Orthodontic Services at InLine Orthodontics
We offer a comprehensive range of orthodontic services for children, including:
Early Treatment – Phase I
Early treatment, also known as Phase I or Interceptive Treatment, is when a young patient still has baby teeth but needs to start orthodontic treatment. There are multiple reasons for early treatment, but the underlying common reason is that if not treated early, the problems will become more complex and will require longer (and more costly) treatment later on.
The old "wait until all baby teeth fall out" principle does not apply anymore. Your child's oral health care can start now! If your child does need Phase I treatment, Dr. Trpkova will advise during your consultation.
Keep in mind, some children will not need early treatment and their dental treatment can wait until their adult teeth arrive. These children will be placed on our recall or dental monitoring program so that we can start at the most optimal time.
Phase I Treatment with Invisalign First
Invisalign First is a type of Phase One treatment for growing children. It uses clear, removable aligners to gently align the teeth, expand the arches, and make room for existing and incoming permanent teeth. This treatment can correct thumb-sucking habits, improve minor speech problems, and eliminate the need for permanent tooth extractions later on.
Invisalign First is a popular orthodontic treatment option because it can address a wide range of teeth straightening issues such as crowding, spacing, and narrow dental arches.
One of the key advantages of Invisalign First is its minimal impact on your child's lifestyle. The removable aligners allow your child to continue enjoying their favourite foods and maintain their oral hygiene routines without hassle.
Invisalign proven technology, which has already transformed over 5 million smiles worldwide, provides a reliable and effective solution for your child's orthodontic needs.
Our team is specialized in not only orthodontics but also dentofacial orthopedics!
There are nine specialties sanctioned by the Canadian Dental Association. Some you are likely familiar with like pediatric dentistry (a pediatric dentist specializes in dentistry for children), periodontics (dentistry focusing on the gums), and oral surgery.
"Orthodontics and Dentofacial Orthopedics" is one of the nine specialties. Essentially, while orthodontics means tooth movement, dentofacial orthopedics means corrective guidance of facial growth and development.
This means we can diagnose any misalignments in your child's teeth and jaw, as well as their facial structure. We can devise a treatment plan that integrates both orthodontic and dentofacial orthopedic treatments. Dr. Trpkova is skilled in both areas and can offer these dental services during your dental visit.
Treatment for Impacted Canines
If your child develops an impacted canine, we can perform a simple surgical procedure to assist in the eruption of the tooth. After the tooth is exposed, we provide orthodontic treatment to guide it to the correct position.
Early detection and combined surgical and orthodontic treatment can ensure that impacted canines can erupt correctly and/or be guided to the ideal position in your child's mouth.
The Canadian Association of Orthodontists recommends that children have an orthodontic examination by the age of seven, which allows us the opportunity to monitor your child's teeth eruption and detect impactions early.
Financing Your Child's Orthodontic Care
Understanding the cost of your child's orthodontic treatment is crucial in making an informed decision. Fees for pediatric orthodontic care may vary, influenced by the complexity of the individual's needs and the designed treatment plan.
Here at our InLine Orthodontics Pediatric Dental Clinic in Calgary, we prioritize transparency and communication when it comes to treatment costs. Our experienced team of pediatric dentists will provide detailed information about the fees associated with your child's treatment and walk you through available payment plan options.
This allows you to choose a plan that not only caters to your child's orthodontic needs but also fits seamlessly into your budget.
We believe that a healthy, radiant smile is a lifelong investment that should be accessible to everyone. That's why we strive to streamline the financial aspect of orthodontic care, ensuring you receive top-notch treatment without financial stress.
Direct Billing and Insurance
For your convenience, and for a positive dental experience, we offer direct billing to your insurance plan. Our practice accepts most major credit cards and insurance plans, and we're happy to coordinate with your insurance provider directly.
If your insurance covers a portion of your orthodontic treatment, our team will manage the billing process and provide guidance with insurance claims and paperwork, making the process smooth and straightforward for you.
Please don't hesitate to contact us with any questions or suggestions about improving your experience with our clinic.
Your Child's Journey to a Beautiful Smile Starts Here
Choosing the right orthodontic care for your child is an important decision. We invite you to book a free initial consultation to learn more about our pediatric orthodontic services in Calgary.
During this dental appointment, we'll answer your questions, discuss your child's orthodontic needs, and help you understand the best treatment options in a welcoming environment. Begin your child's journey to a beautiful smile today – contact us to book your free consultation!