Traditional Braces Calgary
InLine Orthodontics Calgary, led by the experienced Dr. Trpkova, offers a range of orthodontic treatments in Calgary, including traditional metal braces. Braces are a great way to correct misaligned teeth and jaws to ensure a healthier, more attractive smile.
Why Choose Traditional Braces?
Traditional metal braces, an enduring solution to various dental alignment issues, have a proven track record for effective treatment. Known as the most common type of braces, these braces work with high-grade stainless steel brackets and archwires. This technology applies constant pressure to gradually shift your teeth into their ideal position.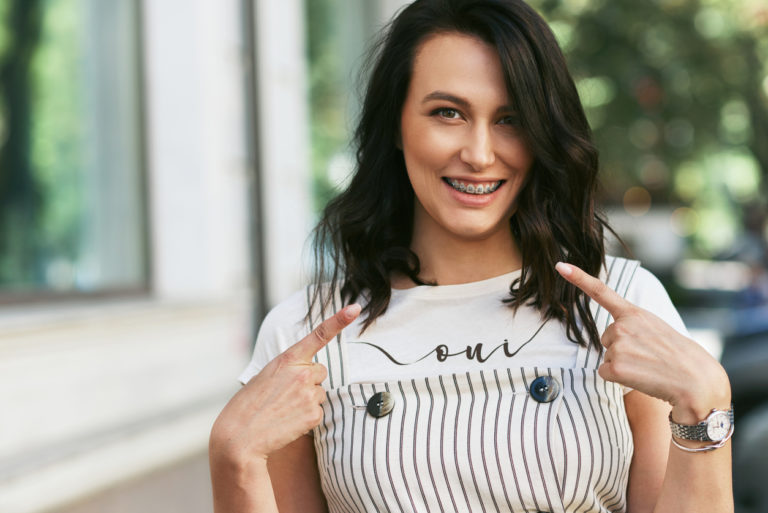 Benefits of Getting Braces in Calgary
Orthodontic treatment using braces offers numerous benefits beyond just cosmetic enhancement. Here's a look at why getting braces is a great investment:
Healthy Smile: Braces help correct overcrowded or misaligned teeth, reducing the risk of tooth decay and gum disease and helping you achieve a healthy smile.
Prevent Jaw Problems: By correcting bite problems, braces can prevent potential jaw joint disorders, leading to better overall oral health.
Improved Oral Hygiene: Straight teeth are easier to clean, meaning better oral hygiene and fewer cavities.
Boosted Confidence: A straight, healthy, beautiful smile can significantly boost your self-esteem and confidence.
Correct Positioning: By bringing your teeth and jaw into the desired position, braces improve your facial balance and aesthetics.
Better Digestion: Aligned teeth chew more efficiently, which can improve your digestion and overall health.
Speech Improvement: Correctly aligned teeth and jaws can enhance speech, reducing impediments caused by misalignment.
Getting braces is not just about getting a brand-new smile but also about improving your overall dental health and quality of life.
With the help of Dr. Trpkova at InLine Orthodontics, we can guide you on the journey to achieving the perfect, healthy smile you've always desired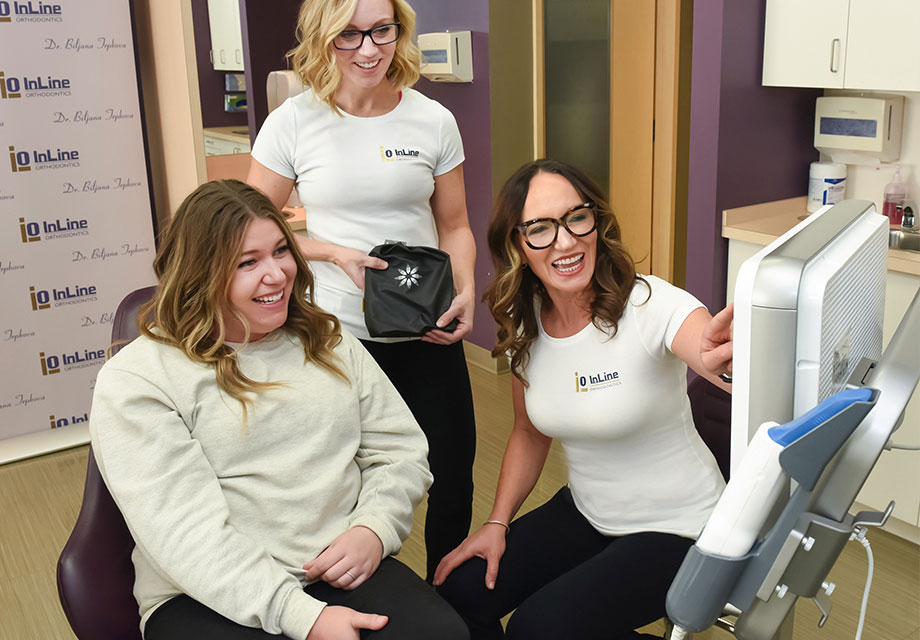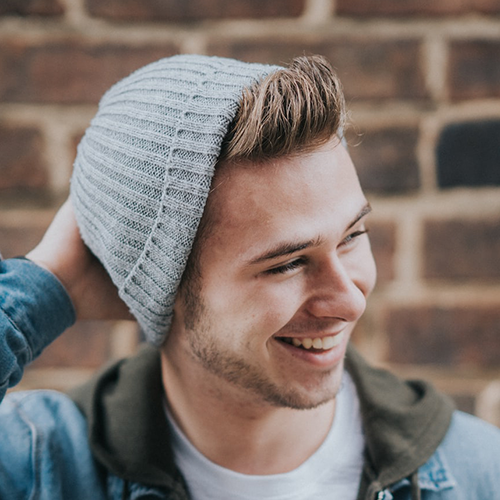 "I had my braces done with Dr. Tripkova and her team. They've always been super kind and wonderful. Everyday I went in for a check up, especially during my monthly braces check, Dr. Tripkova and her team were always friendly and very patient helping get through a troubling time for my teeth. They were quick, efficient, and loving towards my family and I, and I couldn't recommend them enough. Thanks guys! :)"
The Importance of Correcting Misaligned Teeth
Misalignment of your teeth or jaws, while often inherited, can also result from early or late tooth loss, thumb-sucking, or injuries. A normal bite may not always coincide with straight teeth, making braces an essential tool in dealing with such issues.
Plus, neglecting to straighten your teeth could lead to tooth decay, tooth loss, gum disease, speech impediments, chewing problems, enamel damage, and jaw problems.
Are Braces Suitable for Your Children?
Abnormal bites typically become noticeable between the ages of 6 and 12. Thus, we generally recommend completing orthodontic treatment between ages 8 and 14. In fact, the Canadian Dental Association recommends all children receive at least one orthodontic assessment before the age of 7. Some treatment options are actually more effective if your children have a mix of adult and baby teeth! Of course, not all orthodontic problems can be treated in children.
Adult patients and their adult teeth can also benefit from braces, and we offer solutions for all ages.
Traditional Metal Braces Vs Other Orthodontic Options
Traditional metal braces have a few key advantages over other types of braces:
Effectiveness: Metal braces are particularly efficient in correcting severe misalignment and bite issues, offering an optimal solution for complex orthodontic cases.
Durability: Metal braces are very sturdy and unlikely to break.
Customization: With metal braces, you can choose coloured elastics for a unique, fun, and personalized smile.
Comparing Traditional Metal Braces to Other Types of Braces
When choosing an orthodontic treatment, it's essential to consider the various options available. Here's a comparison of traditional metal braces to other common types of braces:
Unlike traditional braces that require elastics to hold the archwire in place, self-ligating braces consist of a specialized clip. This results in less friction and fewer appointments for adjustments. However, traditional metal braces remain the go-to choice for severe misalignment and complex orthodontic cases.
Ceramic or clear braces are less visible due to their clear or tooth-colored brackets, making them popular among adults and older teenagers. While offering a more subtle appearance, ceramic braces demand more attention to oral hygiene and are more brittle than metal brackets.
Lingual braces are attached to the back of your teeth, making them virtually invisible when you smile. However, they can be more challenging to clean and may take longer to adjust compared to traditional braces. For patients needing substantial realignment for severely crooked teeth, traditional braces are typically more effective.
Invisalign Clear Aligners
Invisalign aligners are nearly invisible and can be removed for eating, drinking, and cleaning. They provide an aesthetic and convenient option but are not suitable for severe orthodontic issues. Traditional braces, on the other hand, offer a comprehensive solution regardless of the complexity of the case.
The Cost of Braces in Calgary, Alberta
We firmly believe that everyone should have access to a smile they love, which is why we're committed to providing affordable braces in Calgary. We offer a variety of financing options, making your braces treatment as affordable as possible.
Insurance Coverage for Braces
Many Canadian insurance providers offer coverage for orthodontic treatments, including family braces. Contact your insurance service provider for more information on your individual plan.
If your insurance doesn't cover your orthodontic treatment plan, don't worry; we have many financing options and payment plans available to help patients pay while easing any financial burden.
Begin Your Journey to a Beautiful Smile
Your journey to a healthier, more beautiful smile starts with a single step. We invite you to book a free initial consultation with Dr. Trpkova at InLine Orthodontics in Calgary. Whether you're interested in traditional metal braces or exploring other options, we're here to guide you every step of the way.
As your trusted Orthodontist in Calgary, we're committed to providing personalized care tailored to your unique needs. In your first appointment, we'll walk you through the process, answer your questions, and help you make an informed decision about your oral health.
Schedule a Free Consultation Today
Getting braces is a significant investment in your future, enhancing not just your appearance but also your overall dental health. So why wait? Book your free consultation today and let us help you take the first step towards the smile you've always dreamed of. Your perfect smile is just a click away.