InLine Orthodontics Calgary, we strive to make orthodontic treatment affordable for everyone. That's why we offer personalized payment plans and direct billing to your insurance provider.
The fees for orthodontic treatment will vary, depending on the complexity of each individual's needs and treatment plan.
Our team will discuss the fees of your treatment and each available payment plan option with you, so you can make the best choice for yourself and your smile.
We will work with you to create a payment plan that fits your budget, and you will know what to expect before beginning treatment.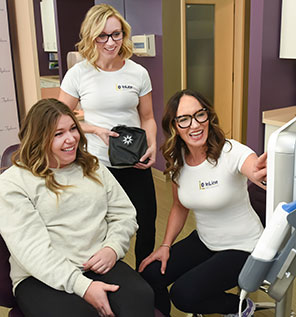 We understand that everyone's financial situation is unique, and we want to make sure that your orthodontic treatment fits comfortably within your personal needs. That's why we offer flexible payment arrangements.
We'll work closely with you to create a payment plan that suits your budget and aligns with your financial goals. Whether you prefer monthly payments or a customized instalment schedule, we're here to find a solution that works best for you.
Our goal is to make your orthodontic journey as smooth and stress-free as possible.
We Direct Bill Your Insurance Plan
If you have insurance that covers any portion of your orthodontic treatment, our team will coordinate the direct billing and will always be available to help you with insurance claims and paperwork.
MasterCard and Visa Accepted
To make it even more convenient, we accept MasterCard and Visa cards, allowing you to use your preferred payment method.
Feel free to discuss your payment preferences with our friendly team, and we'll find a solution that works best for you. Your new smile awaits!
Convenient Online Services
With the simple click of a mouse, our secure online service allows you to:
View your appointment and account information at any time
Sign up for email or text appointment reminders
Check your payment history and see current charges
Print out flex spending reimbursement and tax receipts
If you do not have a patient login, please let us know at your next appointment, and we will gladly help you set up your personal account.
Schedule a Free Consultation Today
Your journey to a healthier, more beautiful smile starts with a single step. We invite you to book a free initial consultation with Dr. Trpkova at InLine Orthodontics in Calgary. Whether you're interested in traditional metal braces or exploring other options, we're here to guide you every step of the way.
As your trusted Orthodontist in Calgary, we're committed to providing personalized care tailored to your unique needs. In your first appointment, we'll walk you through the process, answer your questions, and help you make an informed decision about your oral health.